Druskininkai to Lublin
Languages have never been my specialist subject. Somehow I managed to get a B at GCSE French and tried to brush up on some of what I learned at school with a French module during my degree but it seems to go in one ear and out l'autre. Not that French would help much on this trip anyway as we only spent one day in France. But as an English speaker it has been incredibly easy to travel through the countries we've been to so far as almost everyone we have met speaks very good English or at worst enough to understand what we are trying to do/buy/eat. Poland has proved to be a bit more challenging though and trying to speak Polish is far from easy with more z's and c's in each word than you can shake a szctick at. But sign language and a smile seems to go a long way so it's been good to start practising this for later in the trip when things are sure to get a lot harder.
14th to 21st October 2014
From Druskininkai it's not far up to the border crossing into Poland and the enormous customs checkpoint lies empty alongside the main road now that both Lithuania and Poland are within the EU Schengen region so we ride through without stopping. Crossing the border means we gain an hour as we go back a time zone but we've decided to try and stick to Lithuanian time as it makes better use of the daylight. Into our first Polish town of Sejny it all looks much more commercial than the Baltic states as there are huge shop signs everywhere and when we stop at a supermarket the choice on offer seems enormous, even though it's just a Biedronka which is a kind of Polish version of Lidl.
Next morning we stop for a quick biscuit break and some policemen wander over for a chat about our trip then suddenly ask to see our passports. This is the first time we've had to produce them during the entire trip so far so we're glad that they are still where we think they should be. They tell us there are one, maybe two lynx in these woods so we keep an eye out but they must be hiding today. The policemen are soon distracted when a Lithuanian camper van pulls in towing a trailer with a generator running that seems to be powering a large fridge in the van.
After lunch in Augustow we're reunited with the Via Baltica for 30km and it's now laden with a lot more trucks, in fact several times more trucks than cars. There's enough of a hard shoulder to stay to one side but at one roundabout things get a bit too cramped for our liking when a huge artic tries to squeeze past. Polish drivers are by far the worst yet so I need to be much more aware of what's going on, but unfortunately my rear view mirror was lost somewhere a few days ago. The road surfaces are also in a poor state with some stretches having deep trenches cut into the tarmac by the heavy lorries so a choice has to be made to either ride the narrow ridge to the right of the trench or stay in the trench, both require a lot of concentration!
There's a thunderstorm overnight which comes very close to the tent but by morning it's calmed down again and stopped raining. We'd left our Alpkit top tube bags on the bike and they'd taken a soaking which we later discovered had affected our Portapow USB mains plug (which works again once it's had a chance to dry out). The morning is very misty which makes the rural and quiet roads we're now on very atmospheric. There are free range chickens, free range dogs and free range cattle roaming freely in many of the villages. Old men in flat caps stop and stare and we see one chap herding his cows from the saddle of an old single speed bike.
This is a resolutely Catholic country and there are hundreds of shrines alongside the road, roughly every km or so but sometimes more. Some houses have their own shrines in their gardens. Pictures and statues of Pope John Paul II are on display fairly regularly too.
Things get busier as we approach the city of Bialystok and on the way we start to see some familiar brands such as Makro, Tesco (they don't like them here either) and Decathlon. It's impossible to ride past a branch of Decathlon though as they come loaded with everything you need for camping, cycling, walking or any other sports you care to mention. They're out of overshoes in my size and Kirsty can't find any new tights that she likes but I decide to see if they can fix the broken spoke on our back wheel. Straight away Albert the mechanic sets to work getting the wheel off, produces an enormous 45mm spanner to get the drum brake off, hands the cassette to Mateus to give it a good clean, fits a new spoke, trues the wheel and then puts it all back together again, during which time I tell him a bit about our trip. When it's all done I ask him how much I owe him and he says it's on the house as he likes crazy people. We can't thank him enough but while we are eating lunch on a table just outside the shop Albert and Mateus pop out and hand us 2 inner tubes and a bottle of chain lube again without charging us. Our gratitude has to be ramped up another level or two but they seem genuinely pleased to be helping us out.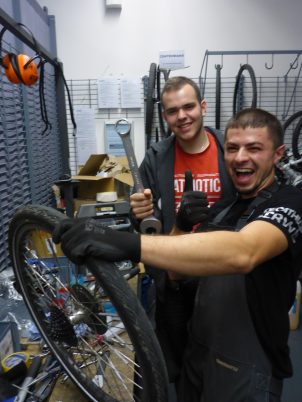 We have two smaller acts of kindness the next day when in a tiny village store we realise we're about 1 zloty short (about 18p) but the shopkeeper lets us have the food regardless – much to our relief as we were worried we'd have to put the huge bag of doughnuts back. Then at another town we're desperate for the loo and need to fill up on water but have no change for the toilet attendant, but she lets us in anyway. We come up against the language problem when she tries to ask us what we're doing, but we show her our map of the world with our route marked on and point to the bike and she seems to understand. Maybe.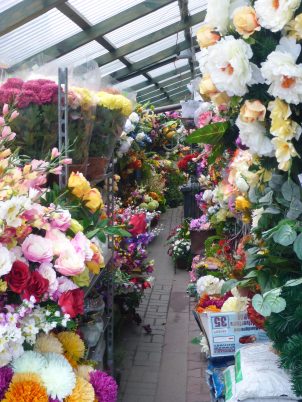 It takes us 4 days from crossing the border to get to Warsaw and on our final night before riding into the city we get held up at gunpoint. In a small village just past Lochow two small boys are having a mock battle and when they see us they turn their weapons on us. We decide to camp behind the community centre and get watched carefully by the boys as we set up the tent and begin to make supper. Using the Google Translate app on my phone we establish they are either 6 or 8 and their names are unpronounceable but they may have family in the UK (one of them has a union jack t-shirt on). We get to join in the battle as they have four toy guns and a plastic knife between them. The porch of the tent makes a great machine gun nest when the vent at the front is opened.
It's 70km into Warsaw the next day so we have plenty of time to enjoy the warm sunshine before we are due to meet our hosts, Marek and Kasia at 4:00. While stopped at a McDonald's to borrow some Wi-Fi and a toilet we get chatting to Paul who says he is a professional bike racer and he invites me to join him at a race the next day, even offering a spare bike. It's all very tempting but the thought of charging after a peloton travelling at 40 km/hr sounds too much like hard work as opposed to a leisurely stroll round the city, so I politely decline.
In Kaunas we had met someone who had ridden from Lithuania to Serbia that summer and had warned us that the road into Warsaw was horrendous. On the map we can see seven major roads converging to cross a bridge, and it makes spaghetti junction look neat and tidy. The Garmin is trying to send us on a 10km detour to avoid it, but when we get there we find a cycle path that winds its way under, over and round the whole lot. We even get to ride behind a huge double-glazed wall that shuts out most of the traffic noise. It's a very twisty route so I can understand why the Garmin didn't want to try and make sense of it, but it makes it very easy for us to get to the city and includes some nice parkland sections for good measure too.
We arrive at Marek and Kasia's lovely flat in a large residential area about 10km from the city centre and soon learn that the whole family is bike mad and enjoy lots of touring and long distance riding. Their son in law Stefan was hoping to ride the 1200km Paris – Brest – Paris event next year but it's very difficult to find qualifying events in Poland so he may have to wait until the next one in 2019. We may well join him for that one.
Marek and Kasia's flat conveniently sits a few hundred metres from the last stop on the M1 Metro line, which is actually Warsaw's only Metro line so it's an easy ride into the city the next day. It's a lovely clear sunny day so we join a free walking tour led by Gawel who tells us all about Warsaw's troubled history. Apparently it's not the most picturesque Polish city (we've been repeatedly told that Krakow holds this title), but it is one of the most interesting. Before the Nazis fled from the approaching Russian Red Army during the 2nd Word War they destroyed most of the city, razing 85% of it to the ground. However when you walk around it today you can see a medieval castle, cathedrals, 15th century houses and cobbled streets… or so it seems. These are all actually exact replicas of the original buildings and were built after the war ended. It's hugely impressive and makes for a fascinating visit. At the end of the tour Gawel takes us into a bar and educates us on the etiquette behind drinking vodka before handing round some free samples which certainly helps when he then asks for tips. We have two huge platefuls of traditional pierogi dumplings for lunch then have a few shopping errands to do. The modern part of Warsaw is much like any other with shopping centres, restaurants and high rise office blocks, but in the middle of it all is the enormous Palace of Science and Culture which was a gift from Stalin. Well he called it a gift but the Polish people had to pay for it. And build it themselves.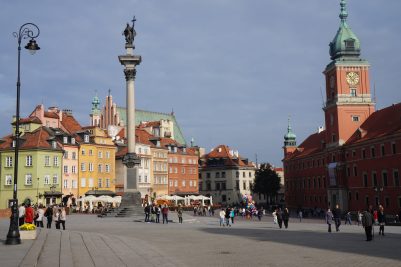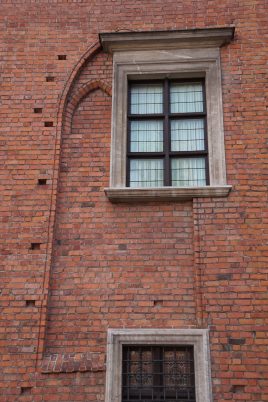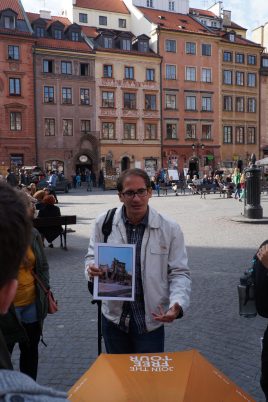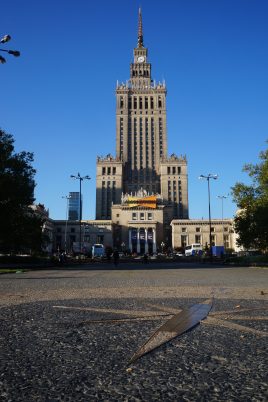 We had hoped to pick up two parcels that were being sent to Marek's flat. One was a replacement Plug for the dynamo hub as the one we had bought in Amsterdam was proving unreliable. Felix at Toute Terrain was more than happy to send a new one under warranty so had shipped one from Germany. The other parcel was a replacement section of our Click Stand which we needed after our bike fell on the stand on a beach in Germany and bent it. Tom at Click Stand was happy to send one to us all the way from the States, but it had taken until now to get hold of him as he had been away on his own tour. However neither parcel had arrived so we were faced with the decision to stay and wait indefinitely or keep moving and ask Marek to post them on to us. The risk being they could be chasing us around the world with us always a step ahead.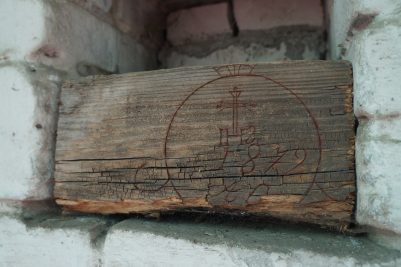 We decide to not to wait and Marek leads us out of the city on a great cycle path that will one day be part of a huge route from north to south of the country due to open fully in 3-5 years. We say goodbye to Marek at a small ferry crossing and continue onward alongside the other side of the river for two days, now heading towards Lublin. We're now in amongst apple orchards and trailers laden with fruit trundle past. There's also plenty of muck being spread on the fields so Kirsty can't help but ask if the smell is anything to do with me.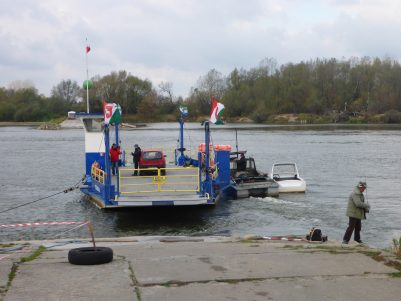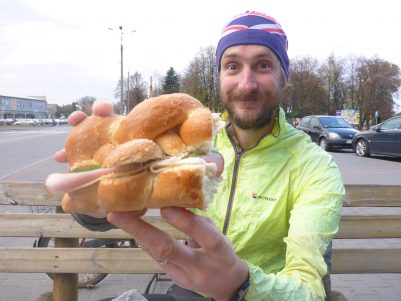 The morning before arriving in Lublin we feel a couple of spots of rain at the same time as seeing a sign to a 'Rowery Muzeum'. Yes it's another bicycle museum, so we decide to take refuge. It all looks to be closed but then all of a sudden the museum owner appears. He gestures for us to sit outside a large shed then proceeds to give a potted history of the bicycle followed by the most amazing parade of largely home-built bikes we've yet seen. It seems he loves to experiment with steel tubes and a welder, so has built all sorts of odd recumbents, folding bikes, articulated bikes, scooters and a mini penny farthing. But unlike most museums we're encouraged to have a go with varying levels of success as most of them are largely unrideable. It's our favourite bicycle museum so far and he puts one of our cards in pride of place in a picture frame on the wall of the museum.
The road into Lublin is relatively hilly which comes as a shock as most of Poland had been very flat. It's a big city of half a million people but 1/3 of them are students at five different universities which must make the weekends in town quite lively. We're staying with Warm Showers host Michal who is an injured physio with two broken wrists so can't currently practice. He sustained the injury while trying to ride down a long flight of steps but fell 3m and was lucky not to be hurt more badly. He gives us a tour round the old town, this time the buildings are genuinely old, but a lot of them are empty awaiting a rich enough investor to bring them back to life. We reluctantly end up having dinner in an Irish pub as we had left it too late to eat anywhere else. I guess we're only one letter away from being in Dublin so it's just about acceptable. Afterwards we get to practice some of the vodka drinking etiquette we learned in Warsaw with some of Michal's friends. The standard shot size is 50cl and they keep coming thick and fast in various flavours so we already know it's going to be another slow start the next day.
It's late morning before we finally make it out of the flat and back onto the bike and like my head, the sky is very cloudy. It's still fairly warm though and we count ourselves lucky that we weren't there this time 3 years ago when they had half a metre of snow in October. We have to head to the train station to meet a train. Predictably it turns out that both our parcels arrived in Warsaw just after we left, but Marek has had a cunning plan. The Polish railway system allows you to send parcels via the train by handing it to the conductor at one station then the recipient can collect it at another station. So the 13:08 train from Warsaw rolls into Lublin station and in carriage number 13 the conductor hands me the parcel that Marek had given him 2 hours before in Warsaw. It's a brilliant system and has saved us a lot of trouble trying to coordinate sending the packages on to another address. With the combined help of Marek, Felix, Tom and the Polish railway system we have our parts and we are very, very grateful to all concerned for making it happen.
After a bit more recuperation time in Lublin, during which I snooze in the waiting room then fit the new parts while Kirsty has a look round the city centre in the daylight, we're ready and safe to cycle again. We're now heading south east towards our next border crossing that this time will take us out of the European Union and into a country with not only a difficult language but also a difficult alphabet. That's if Ukraine will let us in of course.