Belgrade to Prizren (via Romania and Bulgaria)
It's a well known fact among the travelling community that countries that are portrayed as being hostile or having a bad reputation are often the ones that are the most interesting to visit and indeed are usually the most welcoming. Serbia has been a good case in point. Yes it was a Serb who triggered the first world war, and the conflicts in the former Yugoslavia and with Kosovo more recently may give the impression that it's a country that should be avoided, but what happens at a national or political level doesn't seem to reflect the attitude of the general population. Before we arrived we'd been told stories by other cyclists of how they had been welcomed into peoples' homes and helped numerous times throughout their trip. Also Martina and Dani who we'd met in Croatia, and by rights should have a very good reason to dislike Serbia, had told us it was a great country to travel through. All of this was enough for us to know we would be OK and should be in for a memorable experience, which was certainly the case not long after leaving Belgrade.
15th to 24th November 2014
We head out of Belgrade to pick up the EuroVelo 6 north of the Danube. This is one of the most popular EuroVelo routes and starts on the Atlantic coast in France and finishes at the mouth of the Danube on the coast of the Black Sea in Romania.
After crossing the river an EV6 sign warns us that we have 10km on a rough path along a dam ahead which turns out to be narrow and bumpy which is always a troublesome combination, but today we have a gusty headwind too. We abandon the path after a few km and drop onto the main road that runs parallel to the dam and is much smoother. We still have the wind to contend with which feels just as strong as those tough days back in Lithuania, but thankfully not as cold.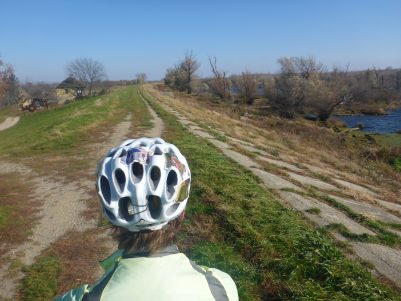 The road opens out onto a wide open plain with no shelter and we crawl along until the next town and try to regain some energy with a standard issue picnic lunch. Serbs eat more bread than just about any nation so there have been no shortage of bakeries to pick up fresh loaves each day.
Straight after the pitstop we get overtaken by a tractor and I call for full power from Kirsty so that we can tuck in behind it. Suddenly from slogging away at 12 km/hr we're cruising easily at 24 km/hr. But all too soon he turns off and it's like riding into a brick wall as the wind hits us again with full force.
In Gaj we decide enough is enough and call it a day. The plan is to nurse a beer in the only bar in the town then pitch our tent somewhere secluded under the cover of darkness. The bar is showing the latest football results on Ceefax so we're entertained by the Bristol Rovers – Kidderminster game (0-0 at full time).
Eventually we venture out and find a football pitch with what looks to be a club house at one end and decide this would offer some protection from the wind. We park the bike and begin taking off the bags when a small dog emerges and inevitably begins barking. The noise alerts someone from inside the building who comes out to see whats going on. It turns out it's not just a clubhouse but it's actually someone's house. We perform the 'can we pitch our tent and sleep here for one night' mime and he nods in agreement before returning inside. We've just got time to pull the tent out when the man returns with his whole family and beckons for us to join them inside. We're shown to the football club office and he indicates that we can make our beds there. It's effectively an en suite as the changing room and showers are right alongside too. Once we've brought everything in and sorted ourselves out we're invited into their kitchen to join them for dinner. Between a mixture of broken German, French, sign language and misunderstood English and Serbian we manage to have a bit of a conversation. Stojan and Vesna live there with their sons Stojan Jr and Milas and seem to be employed to look after the football ground as well as do some coaching. Stojan Jr is learning German and welding in the hope he can start a new life in Germany which is a popular destination for young Serbs.
We couldn't be more grateful for their hospitality but in return they seem genuinely delighted that they have been able to help us.  In the morning we're given a hearty breakfast, helped to load the bike then waved off by the whole family, back into the hurricane that continues to blast in from the East.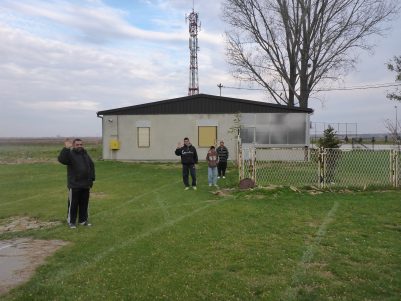 Again we have little shelter particularly on a long steady climb just before the town of Bela Crkva. Heads down, turn the pedals, moving forward slowly.
Entering Bela Crkva the now familiar sight of a pack of four small black dogs assembles to welcome us into the town. Two of them take to the pavement side and two to the road side and they give chase while barking. But as a car comes to overtake one dog panics and runs out in front of it. We're certain we're witnessing canine carnage but miraculously after a short distance the dog comes tumbling out from under the back of the car, rolls onto its feet and runs off with its friends without so much as a limp. We can't quite believe it but perhaps it was part cat and has used up one of its nine lives?
Soon after we arrive at the Romanian border and are quickly waved through. We now need to get back alongside the Danube and dismiss the flat route that meanders back into the river valley and take a short cut that includes a chunky hill but saves 25km.
Luckily the climb is sheltered but the last stretch of the day is back into the headwind so when we arrive in Moldova Veche we're ready to take shelter in a cafe. This is a town that is either half built or half demolished but it's hard to tell which. Instead of dogs our welcoming party is a group of children who run alongside shouting 'Tourist!' 'Bani!' (money). We ask them where we can get a coffee and they lead us to a smoke filled cafe then stand outside peering in while we drink some bitter coffee without milk.
It's starting to get dark so we are forced to get going again to look for somewhere out of the wind to camp. It's a half hearted search, there is rain in the air and I'm still coughing and sneezing so we abandon the idea and check into a hotel. It's 100 Lev (£18) well spent.
After breakfast of omelette with added cigarette smoke we pack and get ready to go. There are some sailors staying in the hotel too but they are stranded because of the high winds. They are trying to get to Istanbul but would end up back in Budapest if they set off at the moment. Returning to the hotel nearly becomes our decision too when we almost get blown clean off the road several times in the first 8km. The wind is unbelievably strong and again on solo bikes we would have been in considerable difficulty. But our perseverance pays off as we round a corner into a more sheltered section close to the river and it becomes a lot easier.
We're now entering the Iron Gates National Park and the scenery is framed by high sided hills on either side of the Danube that is now about 800m wide. There are enormous barges up to 150m long trundling up and down the river, just slower than the tandem so we play tortoise and hare (or tortoise and slightly slower tortoise) all day.
There was a presidential election the day before and the results announced that morning show that the country has a new leader in the form of Klaus Johannis who is from a German speaking part of Transylvania. We're quite often mistaken for being German for some reason, so a few times that day we get the comment 'Are you German? We have a German president!'. They seem non-committal as to whether the new appointment will be a good thing but In a country that is notorious for corruption any new leader will have to do a lot to gain the trust of the people which can only take time. Both of the main candidates seem to have spent a huge amount on their campaign as there are posters and banners absolutely everywhere.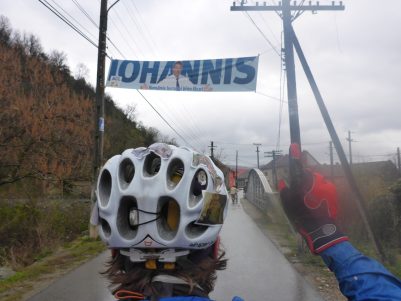 On the other side of the river we can see the Serbian road which we could also have taken and it appears to be the harder option with more climbing but with some tunnels and bridges that we miss out on. In the summer that side is more shaded but we don't need to worry about that today. The hills on either side get steeper and become 500m cliffs to form a gorge that we're now riding through and it's very much like being in a Norwegian Fjord or Scottish Glen. We even have some authentic Norwegian/Scottish weather with low lying cloud and a fine mist in the air.
We end the day with a climb that takes us away from the river just as it narrows right down to 150m and we rejoin it on the other side of the hill where it has opened out into a huge basin with the town of Dubova laid out around the edge.
A giant fish on the outside of the Decebal hotel lures us in as we wanted to try the famous Danube catfish. Once we've checked in we make our way to the restaurant only to find they are out of just about everything so we have to make do with Crap Fish instead. This may have been a typing error in the menu.
One of the highlights of the Iron Gates National Park is the carving of King Decebal that stands at over 40m high and is the tallest rock carving in Europe. There is talk of Serbia carving their own face on the other side but as yet this hasn't happened. Not surprising really as Decebal took 12 sculptors 10 years to create so was a huge investment in time and resources.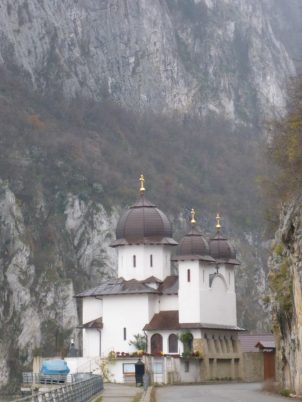 We take a look on our way out of the Iron Gates and before arriving in Eselnita, a town that has only one paved road, though piles of rubble everywhere indicate that someone may be planning to build some more at some stage.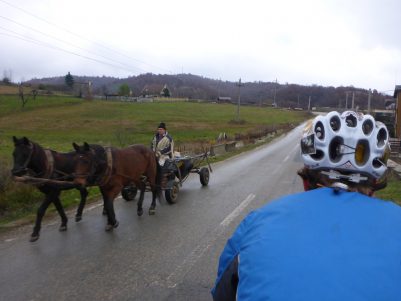 We quickly climb up and over into Orsova for a cafe stop before continuing on a busier road that takes us to the first of the dams that are responsible for forming the Iron Gates National Park. When the two hydroelectric dams were constructed in the late 60's/early 70's little thought was given to the impact of the 35m rise in water level on the ecosystems of the flora and fauna but the gorge is now environmentally important enough to be under protection by both Serbia and Romania.
We take a photo at the dam then get approached by a security guard who tells us not to take photos of the dam.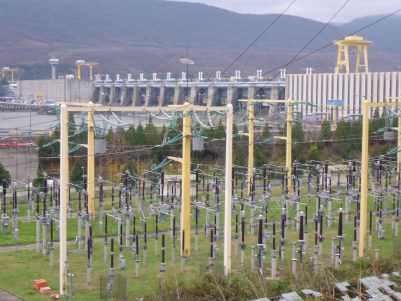 After the surprisingly modern looking town of Drobeta Turnu Severin we have another long climb before dropping onto a plateau. It's been 6 nights without camping so it's nice to be back in the familiar surroundings of the tent that night although there are a few disturbances when mice decide to run around beneath the groundsheet.
We're quickly on our way to the next border the next day. We've discovered that although everyone looks quite suspicious of us to begin with, a wave and calling out 'Salut!' usually prompts an enthusiastic response. The flat road has allowed us to make good progress so we have time to stop for lunch in Calafat before crossing to Bulgaria. It's a good job we had lots of time as it takes over an hour for the food to arrive! Romanian service levels leave something to be desired.
To get to Bulgaria we have to cross the Danube and up until last year this would be done by ferry. But the ferry service suffered from inconveniences like running aground in summer and being frozen in in winter so after 40 years of talking about it they decided to build a bridge. We may well be the first tandem to cross it.
It takes us into the city of Vidin which doesn't give a good first impression of Bulgaria so we don't stop and instead ride through and make our way to our Warm Showers host for the night.
Annalise is another Belgian and lives in a former hotel in an isolated position alongside a lake along with her dog, cats and chickens. It is almost entirely off grid with no power, phone line and just one outside tap for water. Her vision is to create an eco-hostel where travellers can stay but also people can come and learn about low impact living techniques. It's still early days and there is plenty of work to be done before it can start taking 'proper' guests so for now she is happy for passing cyclists and hitch hikers to stay for a night or two on their way through Bulgaria. No Warm Shower this time. We have dinner by candlelight, wash up in the stone basin and put as many covers as we can find on the bed in the unheated bedroom. It's still a lot warmer than the tent would have been.
Waving goodbye to Annalise in the morning we can't help but admire her enthusiasm for the project but expect she's going to have a tough winter ahead when the temperatures drop well below zero.
We've got a tough day ahead as we're straight out onto a steep climb and at the top we've got ourselves a mighty headwind again. We're travelling west now so of course the wind has turned 180 degrees. The combination of hills and wind drive our average speed for the morning down to 10 km/hr. Bulgaria isn't appealing to us but it's only a brief visit as after lunch we're back in Serbia again. The hour we'd lost going into Romania is given back to us but I've given up changing the clock on the trip computer.
In both Romania and Bulgaria we'd been expecting to encounter lots of vicious dogs as we'd heard plenty of stories of other cyclists having problems but although we saw hundreds of strays they were almost all fairly docile with perhaps the odd bark but only one showing it's teeth (which made Kirsty pedal twice as hard to try and get away).
Northern Serbia had been pan flat but southern Serbia is very different. We have two days of hilly riding to get to Niš and climb to a new highest point for the trip of 787m and a new top speed of 70.9 km/hr coming back down.
We hadn't managed to find any hosts available in Niš so find a cheap room with enough space for a tandem. One Warm Showers host had been trying to sort something out for us from the deck of a boat in the Caribbean but eventually drew a blank amongst his friends and family however we have arranged to meet with Milos and Jelena who don't have a spare couch but are happy to join us for a drink and a chat. Milos was studying engineering but found that being a translator from English to Serbian was more lucrative. They ask for tips for their next holiday as they enjoy camping trips too so we suggest Estonia and they immediately begin making plans.
The rear hub on the bike needs some more attention so the next morning we head to Planet Bike. The verdict isn't good as it needs new bearings and cones, but Danny the mechanic thinks it should last us until Athens where we should be able to get new parts. He gives it a good clean, fills it with fresh grease and gets it set up as best he can. No parts fitted so he doesn't charge and he gets a photo of us for his Facebook page. Thank you Planet Bike in Niš!
The previous blog needs sorting out too so we find a library and nearly get the photos added when they kick us out because its closing so we spend a frustrating hour finishing it off on our phones while sitting in a park that has WiFi. The WordPress App is great for typing up the words but not so good for editing and adding pictures.
The most unique sight in Niš is the Skull Tower which was constructed during the Ottoman times and decorated with 952 Serbian skulls, though only 54 remain. It was supposed to serve as a warning that any resistance to the Ottoman occupation would be met with extreme force but it's now a monument of Serbian courage and resilience. In fact one of the later Ottomon rulers wanted to knock it down but the Serbs insisted on keeping it. It's a very bizarre sight and more than a bit unnerving.
It's already beginning to get dark when we leave Niš and the busy city limits leave very few camping opportunities. But we eventually find an open space that is only occupied by a few goats and so pitch the tent in a secluded corner. Some policeman come and investigate at one point but seem happy enough that we'll be gone the next day and more importantly don't seem to be fearing for our safety.
We're now approaching the very south of Serbia and get some lovely long climbs through woods at a comfortable 4-5% gradient. Then at the ridgeline we reach our most controversial border.
For 108 countries the Republic of Kosovo has been an independent state since 2008 but Serbia still claim it as their own autonomous province. With a Kosovan entry stamp in our passports it may be difficult to get back into Serbia so this is very much a one way trip but we plan to keep moving south and exit via a different border.
Compared to the wattle and daub houses in the Serbian villages on the way up the contrast of brand new brick houses across the border is surprising. In fact most things seem to be brand new, from the signs, to the petrol stations to a lot of the cars on the busy and well surfaced roads. There are plenty of Stars and Stripes flags around to show appreciation for where a lot of the money has come from.
In Prishtina we find the iconic New Born sculpture which applies to not only the fact that this is the 2nd newest country in the world but also because it's a country that seems to literally be being built from the ground up. Kosovan children are very friendly and speak good English and while looking at the New Born sculpture a group comes up to us and ask for rides on the back of the bike. Their roller blades help them reach the pedals but Kirsty is relieved to hear that none of them are suitable for replacing her.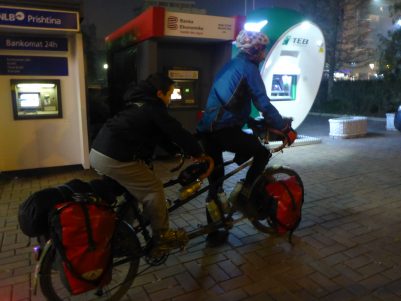 Things are a bit different to other countries we've been to. There are lots of big white 4×4 vehicles to show that foreign aid workers and the UN are still working hard here. We see soldiers from Germany and Turkey who are part of The Kosovan Defense Force (KFOR) on the streets in Prizren and occasionally a military helicopter flies overhead. At each bridge there is a sign to show the weight limits for a tank and by the side of the road another sign thanks the Belgian government for clearing the area of land mines.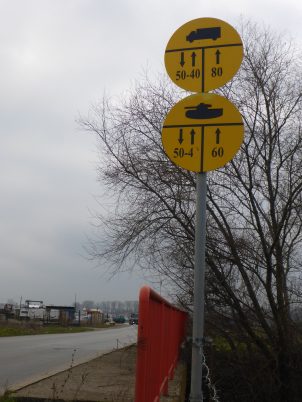 This is not a country for wild camping so we stay in a hostel in Prishtina on our first night and reward ourselves for 100 days on the road with a fantastic meal at a secret restaurant. It's so secret in fact that we nearly don't find it but just as we're about to give up we turn around and there it is, we only recognise it from a photo we'd found on Trip Advisor as there is nothing to indicate that the huge wooden doors are in fact a restaurant. There's no menu but as soon as we sit down we are given a carafe of wine and a carafe of rakia 'to warm us up' followed by amazing Albanian mezze. If you're in Prishtina then try and find Rennaisance 2 as it's well worth it.
The support of the US has been commemorated with "Xhorxh Bush Boulevard" and "Bill Klinton Boulevard" but the statue of Bill is not the most flattering. The most famous Albanian, Mother Teresa also gets her own street, statue and cathedral though the latter is a work in progress.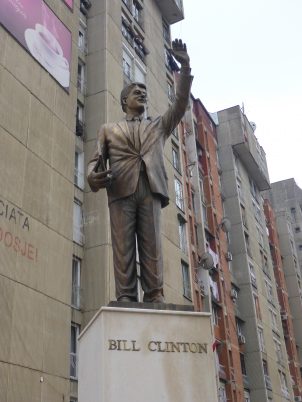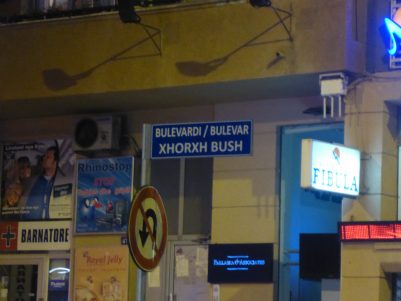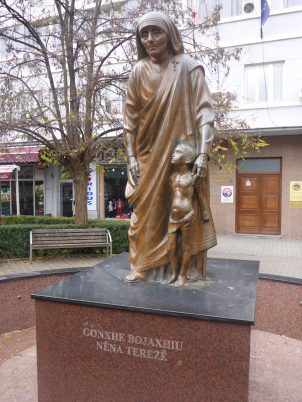 As well as Stars and Stripes, Albanian flags are everywhere as Kosovo is considered part of "Greater Albania" that also includes parts of Macedonia, Greece and Montenegro which are populated by ethnic Albanians. Some people think Kosovo should become part of Albania but given the now hugely different economies this seems unlikely to happen.
From Prishtina we head out past massive out of town commercial developments that seem to be built very much like a US town. We get cheers and waves from almost everyone and when we stop at a petrol station we're given chocolate bars to help us on our way.
We have to climb another row of hills, and a new highest point of 850m, then drop down through fog to Prizren. We're staying with Dario who is working for an Italian NGO to provide help with agricultural development in Kosovo. He's beginning to think that all the foreign aid has meant the country has changed too fast and has made it too Western, losing some of the traditional characteristics which we can well believe.
A walk round Prizren the next day takes us to our first mosque and the call to prayer rings out across the city mid morning. But alongside the ancient building is a market square lined with bars playing music at high volume.
There's not much of Kosovo beyond Prizren so our brief stay in this fascinating and unique country is due to end all too soon. Macedonia lies due south but we're heading a bit further east to another country with an awkward reputation to see what it's really like. Next is Albania and we've seen a few snow capped hills that hint that there may be some climbing to do.