Lübeck to Copenhagen
30th August to 5th September 2014
Like Jenson Button, having the right tyres is critical for a touring cyclist and in Lubeck it was time for a pit stop. Although the Schwalbe Marathon Mondials that we'd fitted should be good for at least 10,000km and we'd only used them for a 1/10 of that they were causing us a few problems. The Mondials are the tyre of choice for most 'Adventure' cyclists being as tough as old boots and probably made from a few pairs. They can cope with any terrain, are as good as p*ncture proof and can be relied on in the harshest conditions. However they roll like a pair of John Dear tractor tyres when on smooth tarmac and were a very close fit in our frame, which could be an issue when we hit unpaved roads. Eric at the bike shop in Amsterdam had spotted the tyre/frame issue and recommended a different model of Schwalbe Marathon (of which there seem to be hundreds), the Supremes which had also been suggested by our fellow tandem touring friend Dr Boyd (see tandemasia.wordpress.com for tales of his travels).

Also on the shopping list was another seat post for Kirsty, the 4th so far of the trip. The temporary bodge using the donated suspension post was holding but we wanted something more reliable. Ideally a suspension post called a Thudbuster by an American manufacturer called Cane Creek but in a less popular model type and in a very unusual size that very few bike manufacturers use (27mm for the bike geeks).  The chances of finding this were slim to nothing so my confidence was low when we walked into the local German bike emporium only to find precisely the seat post we wanted sat on the shelf.  Surely not? We double checked the specs and it was indeed the right one. They also had one of the tyres we wanted and round the corner another shop had a second one. We should have bought a lotto ticket at the same time. The cost for this rarity amongst bike parts to provide all day comfort for my stoker?….priceless.

With the new parts fitted, including the USB charger we'd bought in Amsterdam, by Sunday morning we were ready to hit the road again and a belly full of pancakes courtesy of Doerte sets us up for the day.
Straight away the new tyres make themselves known, by being so quiet. All that energy we'd wasted generating a loud roar with the old  tyres has been replaced by forward motion and a gentle hum. It's like moving from Crunchy Sun Pat peanut butter to smooth churned Kerry Gold.  Kirsty's new seat post is busily busting the thuds and the USB charger is taking power from the hub and squeezing it into our phones. A happy tandem crew. Apart from the few rain showers that keep our jackets in place.
After crossing the narrow bike path on the bridge to the island of Fehmarn we find a camp spot by a beach in a place called Gold. Just need to find Purple now.
Next day we roll onto the ferry to Denmark at Puttgarden. Joining us on the boat is a full size train as the ferry crossing forms part of the Hamburg to Copenhagen route. It's extraordinary to watch it drive onto the boat, which hardly seems long enough. On the other side it's nice to be in a new country with a new currency and the promise of the finest pastry products in the world (even the ones on the ferry were good).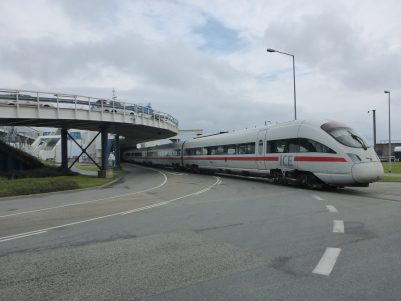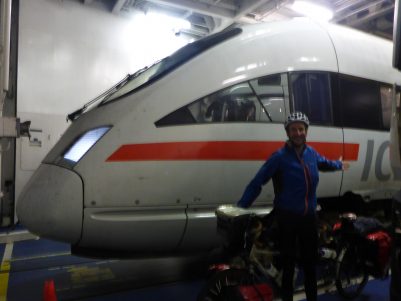 We stop in Rodbyhaven for supplies and decide to pay the library a visit to borrow some internet and look at some maps. While waiting for it to open we get chatting to Henrik who gives us an insight into Danish culture. Apparently Danes are notoriously intolerant but good at building bridges. He's studying Neuro-linguistic Programming and must have used some of this mind trickery to convince us to visit Moens Klint despite it being well off our route to Copenhagen.
On the way to Moens Klint, known for its hills and white cliffs, we get to sample some of the famous Danish bridge building including one that is 3.5km long as we cross onto 5 different islands, each with a slightly different character. Thankfully, gone are the endless maize fields that we seemed to have been riding through since the Netherlands and the landscape is much more open and rolling. We get to the visitor centre in the heart of the forest at the end of the island of Mons after a few short sharp climbs ending in a long drag up a forest track. Ditching the bike we investigate the white cliffs on foot and they are impressive at 128m high and with a superbly constructed staircase (Kirsty counted 494 steps) down to the beach.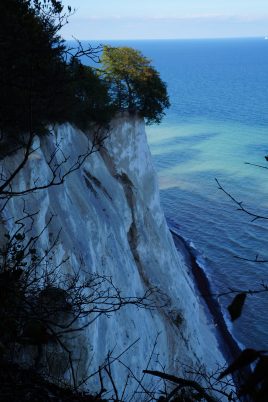 But we need to get higher so we get back on the bike and continue up the forest track. Clicking down a few gears the track ramps up a bit and turns right and narrows. A left turn and we're onto a more rocky path with a few roots and still climbing. Single track now. Eventually we emerge from the woods onto a grassy hill top with the whole of Denmark laid out beneath us. We had ridden to the summit of the highest point in the entire country at a lofty 143m above sea level.
We had planned to use a Natur Kamp site in the woods that night but it doesn't seem to exist so we opt for a cliff top spot instead and plan to leave early before the park rangers can find us. Across Denmark there are hundreds of Natur Kamp sites that offer varying levels of shelter and facilities for cyclists, walkers and kayakers for free. The night before we'd used one in the village of Guldborg that consisted of some open wooden huts and picnic tables with the marina opposite allowing us to use their facilities.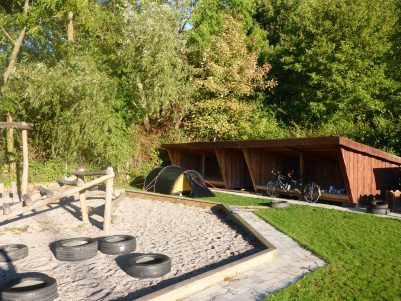 When your ride begins at the highest point in a country there's only one way to go and the next morning we enjoy getting up to speed on a lovely stretch of downhill gradient. The wind turbines have turned in our favour too. In Stege we take on some delicious pastries then back over the bridge onto Zealand to turn north towards Copenhagen. Ever since Germany we'd got used to being on separate bike paths on main roads but this part of Denmark seems to be lacking much bike specific infrastructure save for a few route signs. Even though it's not that busy, certainly by UK standards, and there is a small shoulder for us to ride on we still feel a bit exposed and after lunch turn on 'main road avoidance' on the Garmin to find a more scenic route. It's much more pleasant and there are plenty of pretty thatched cottages and neat farms. In order to enforce stereotypes in one village we see a crocodile of school children being led by their teacher, every single one with blonde hair.
We camp near a beach near Koge in Zealand (just got to head to the new bit now) and I'm watched by some curious sheep during a dip in the Baltic sea in the morning. As well as libraries, we've found McDonald's to be good places to find free Wi-Fi so we stop off at one to check for emails. During the past few days we've been trying to set up Warm Showers or Couch Surfing hosts for Copenhagen but it seems that it's a very popular city with cycle tourists so everyone has either got guests already or is not available. The next option is Air B'n'B which we'd not tried before. For those unfamiliar with this website, it allows you to rent out a spare room, a vacant flat or even a whole house very easily and for as short a time as you like on your own terms and at your chosen price. It's a great idea as for the traveller you can stay somewhere nice often for a lot less then a hotel while the host is earning some cash from a room they aren't using. Again a flurry of requests to hosts from an internet connection at the Golden Arches and this time within minutes we have a reply. Troels is a student who is out of town for the night and says we can use his room. For nearly half the price of 2 dorm rooms in the downtown hostel we now have a double room with secure storage for the bike within a few S-Train stops of Copenhagen city centre.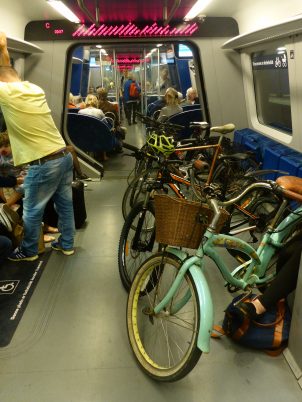 I'd been looking forward to visiting Copenhagen having heard from friends how it has a nice 'feel' to it. It Always interesting to see how every single city in the world develops a unique character and Copenhagen's seems quite relaxed but busy, plenty of historic architecture alongside cutting edge modern designs. It's also a 'bike city' edging Amsterdam as reportedly the best in the world for cyclists. Like Amsterdam there are traffic free bike lanes on every single road with bike specific traffic lights and cyclists having priority at side roads. Unlike Amsterdam though, the thousands of bikes parked everywhere seem to be less shonky, most being fairly new and quite a few trendy fixies with carefully selected components. It's also noticeable that lots of people wear helmets (usually the bowling ball shape variety) which we didn't see in The Netherlands.
We decide to see the city using their City Bike Hire scheme. The brand new fleet of bikes were introduced just last year amid controversy and make Boris Bikes look like something from Victorian times. On the bars you get a tablet computer with full GPS navigation, info about the city and social networking. The bikes have integrated lights and an electric motor but if you activate the motor you pay an extra KR5.
Once we've found some available bikes, we log into the computer and release them from the docking station. Mine immediately tells me that it isn't undocked even though it clearly is so I park it again. I then log on again and pull it out but it still has a problem so I use the tablet computer to send an email to the City Bike HQ that the bike appears to have an error. The tablet then throws up an operating system error, re-boots and appears to be happy for me to carry on. Next step is to plug in our destination and The Little Mermaid seems an obvious choice but it's never heard of it. Abandoning the navigation we choose to just ride round a bit instead and good grief it's hard work! The bikes weigh 30kg so even the slightest slope is a struggle. They make riding a Boris Bike feel like a carbon fibre race machine. We should have activated the electric motor as this is clearly the only way to ride them but instead we give up and find the next available docking station only to find we've been riding for 1hr 2 minutes so pay for 2 hours. It's fair to say I'm not happy and rant and rave for a bit before we head off to find a bakery. [A day or two later we get an email apologising for the error while undocking the bike and refunding the fees, so maybe the scheme isn't so bad afterall]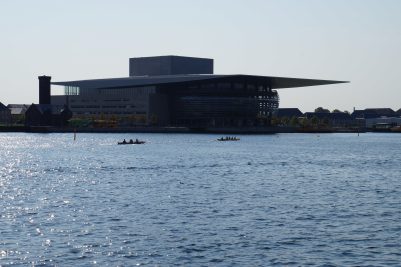 The rest of our time in Copenhagen is a real pleasure. We see the statue sat on the rock, visit Christiana a free thinking 'free town' where they set their own rules (no cars, no hard drugs) but ask you kindly not to take photos of the shady transactions taking place behind camo curtains. We find a street food cafe that prices it's buffet by the weight of the plate of food that you take. Normally we'd decide what to eat based on maximum calories to the Euro/Pound/Krone/Dollar but now have to factor in calories per gram per Krone. I decide that one large, heavy meatball and a portion of lasagne is better value than a stacked plate of lettuce and we leave happy and full.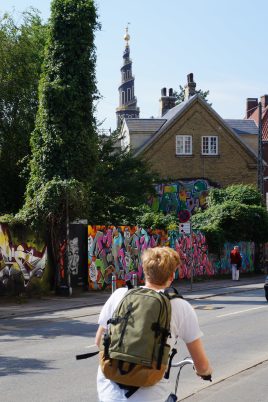 There are a few church towers that you can climb for a view of the city and we choose the Church of our Saviour. It's a bit unusual as the staircase wraps around the outside of the steeple which climbs to 90m high. The views are excellent from the top but I discover that I'm no Fred Dibnah when it comes to scaling the outside of a church spire and get a bit shaky legged when the steps get very narrow and very high up near the top. Usually Kirsty is more nervous than me with heights but she seems to be fine with it so maybe a career in steeplejacking could be an option for her when we get back. Once back on terra firma we head off to find a bakery to buy a pastry.

Next day we're tempted to join Troels at the Danish Kebab Championships but instead decide  to head to Sweden and we plan to take the train across the bridge to Malmo. Unfortunately there is no cycle path on this, the longest road and rail bridge in Europe but there is talk that they may be building one above the road. On the way to the station we stop at a map shop but they are out of stock of the one we need for south Sweden. They do have some excellent maps of the Sverigeleden cycle network but each one only covers a small area and we'd need a pannier full to cover our entire route. Clearly not intended for the long distance cyclist. We resort to trying to find one in Sweden and spend our last remaining Krone on some pastries and catch the train to country number 7.